No Excuses University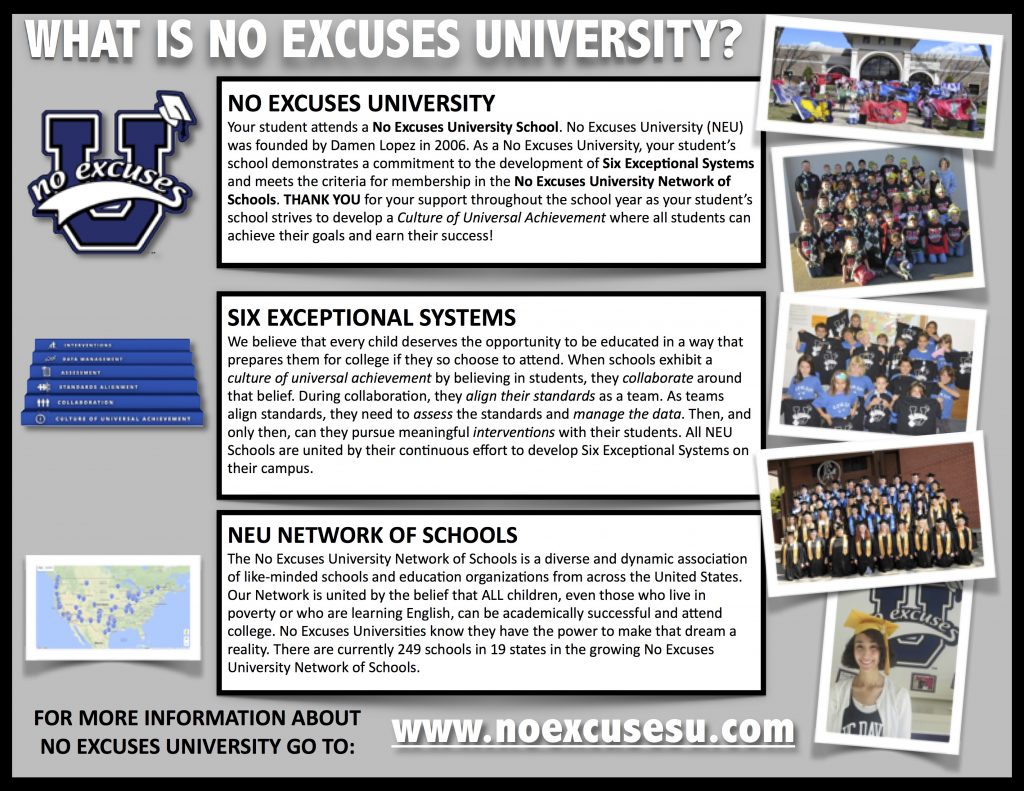 As a result of Damen Lopez's motivating speech given at our Institute Day on August 24, 2009 the Tarkington Staff felt compelled to set into motion the systems for success Mr. Lopez had used at the inner city school "Los Pen" for increasing student achievement. As our primary mission at Tarkington is learning, we wanted to fully embrace the concepts that can make this a reality for our students. In conjunction with these ideals is the No Excuses University (NEU) Concept.
The NEU is the idea that all students deserve the opportunity to be educated in a way that prepares them for college if they so choose to attend. It brings together a culture of universal achievement and a college type atmosphere. A school cannot simply call themselves a NEU. A school interested in becoming one must apply and not only show that they are creating a college type atmosphere but also demonstrate that they have implemented proven systems to increase student achievement.
These systems are:
A belief that ALL students can learn and that it is the school's job to make this happen.

Collaboration among staff, working together to come up with unique solutions for student learning

Aligning our teaching with what the state standards require students to know.

Creating an assessment plan so that we can see where students are at and how we can help them improve.

Analyzing data to see trends in how our students are doing, and being able to share this data with students so that they can set goals.

Interventions: Working with at risk students who are behind in their learning.
Here is the good news: Tarkington applied and was accepted as a NEU this summer! There are only 84 schools nationwide who can call themselves a NEU. Some types of activities we have done and will do in the future to promote this:
Wear our University t-shirts every Friday

Every Monday before we enter school, we chant, "We are Tarkington. We are College Bound!"

Each class has adopted a university and has or will learn its cheer

Promote college readiness through Word of the Week (WOW)

Students write goals and action plans for achieving their goals

Family University Nights to promote learning and college readiness

College bulletin boards highlighting where our teachers went to college as well as where each class' university is located

Teachers, parents, and students are asked to commit (by signing) the Universal Statement of Achievement

Assemblies to promote college readiness

Field trips to universities